LCSD offers many supports for teachers including instructional coaching and personalized learning opportunities.
Induction for all teachers in their first and second year with our school division
Our school division embraces a growth mindset where all professionals can reflect on their teaching using data, specific strategy focus, student work and collaboration. All newly hired teachers, regardless of previous experience, participate in two years of instructional coaching support and an induction program. This begins with two orientation sessions that focus on the principles of great teaching and the LCSD ways. It then moves to a series of classroom visits that focus on management, organization, student engagement, classroom discussion, formative assessment and teacher learning goals. By offering support, feedback, and intensive, individualized professional learning, coaching promises to be a better way to improve instruction in schools. These teachers are also invited to participate in several learning sessions that better support their classroom instruction and optional book studies. This structure (sample) can be followed or teachers can determine their own professional learning goals with the coach.
Coaching requires a trusting relationship and sufficient time to provide the individualized professional learning that is most relevant to a teacher's needs.
After two years of employment, teachers and administrators can choose to engage in a coaching partnership where they drive the topics, focus and action steps. Teams of teachers also engage in coaching ranging from curriculum support to data analysis to instructional strategies.
Our Instructional Design Team Supervisors
Supervisors have differentiated roles with one important common piece. Each supervisor's core role is an instructional coach and has a specific grade range that they engage in coaching. All supervisors are facilitators of the orientation and induction process.
Our coaching program offers a non-evaluative, learning relationship between a coach and a teacher, both of whom share the expressed goal of learning together, thereby improving instruction and student achievement.
Coaching requires a trusting relationship and sufficient time to provide the individualized professional learning that is most relevant to a teacher's needs. Coaches often employ collaborative conversations (sometimes referred to as conferences), model lessons, observations, and mutual problem solving to assist teachers in implementing and mastering new teaching practices.
As instructional coaches, supervisors participate in their own professional development. The first focus is on best coaching practices. Our strategies are anchored in the Learning Forward structure that focuses on Instructional Specialist, Curriculum Specialist, Resource Provider, Data Coach, Mentor, Classroom Supporter, Learning Facilitator, School Leader, Catalyst for Change and Learner. Reflective dialogue is an ongoing part of the skill set. Secondly, we focus on deepening our knowledge about teaching practices. Thirdly, we focus on our facilitation skills. As a team, we meet monthly to reflect on our learning and skill set.
Professional Learning Sessions
Our School Division offers a large number of professional learning sessions communicated through our Professional Learning Journal each year. The sessions are led by supervisors and teachers that have experience or expertise in an area. Sessions are offered both during the instructional day and after schools.
Our Administrators
Our Administrators are the Instructional Leaders of their schools. The IDT supports and collaborates with Administrators regularly to reflect on, scaffold and maintain the integrity of instruction at each school.
Meet the Team
Instructional Design Team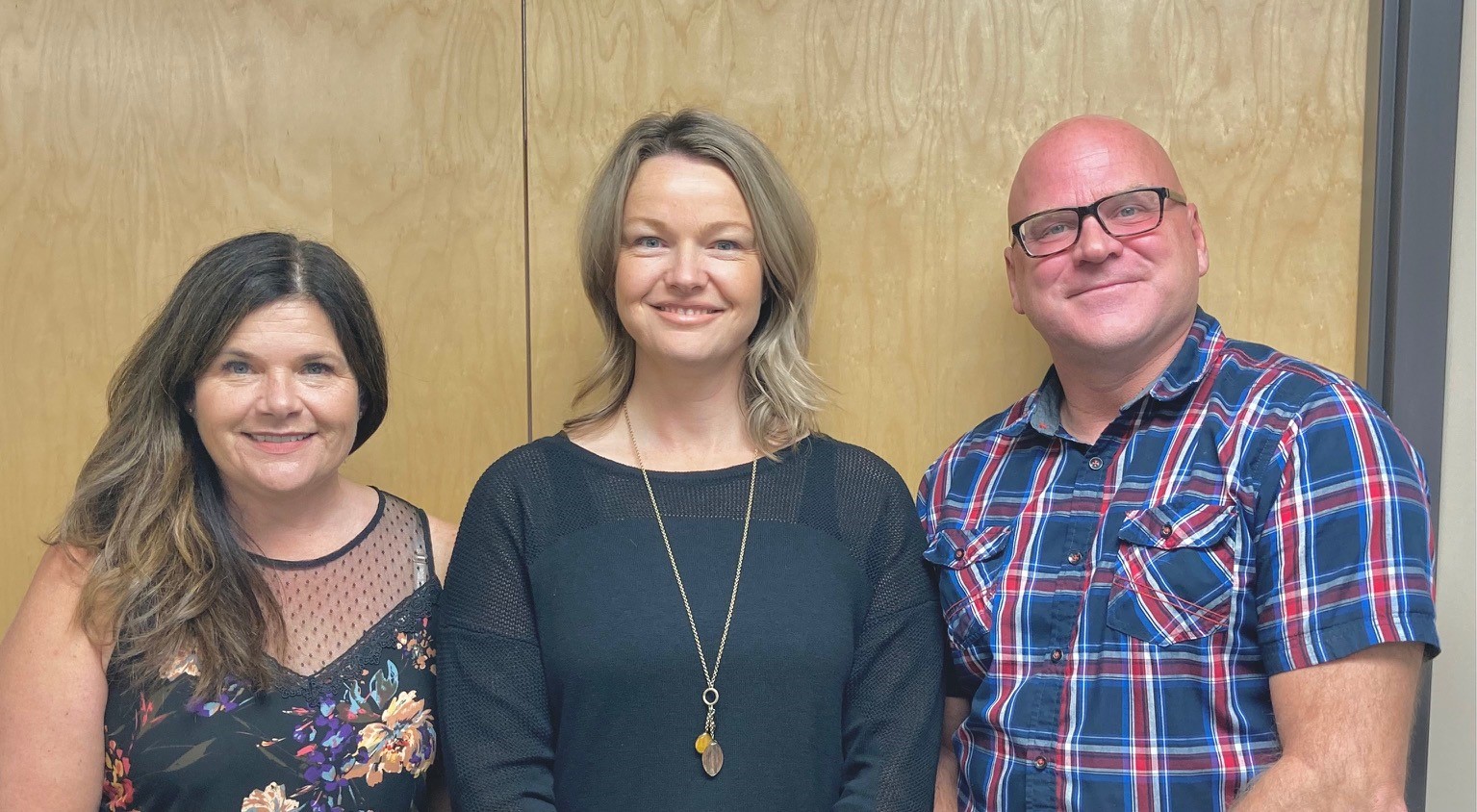 From left: Jacquie Wilson, Andrea Fallscheer and Stew Kehler